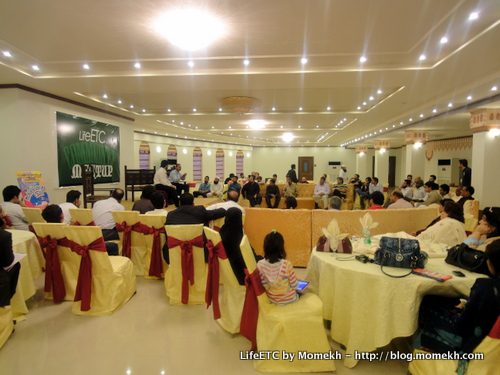 The awesome community of LifeETC by Momekh got together on the 31st of March, 2012, for the first ever LifeETC Community Meetup.
The event was hosted by me at the La Dolce Vita Hall, Garrison Golf and Country Club, Lahore.
The Idea
The idea was to gather like-minded people who already are subscribers to the LifeETC by Momekh blog. Meeting up physically is definitly something that solidifies the community and my first-hand experience only confirms that to the nth degree!
The event, organized solely via the blog, was in Lahore, but had people coming in from different cities as well. Pakpattan, Sahiwal, Islamabad, Pindi and as far away as Azad Kashmir were represented at the meetup! For me, this was very humbling and I actually felt quite proud of what we have done at the blog.
Who Showed Up
First, thank you all for coming over.
I have some awesome people subscribed to the LifeETC by Momekh blog. Here is a profile of some of the people who showed up at the meetup.
Mrs Sabeen Ahsan, a professional writer, home-schooler and a Mom – came with her cute daughter (mashAllah)!
Mr Azeem Mushtaq, a dairy farmer (500 cattle heads!!) came all the way from Mirpur, Azad Kashmir.
Mr Aamir Raja, a blogger and a dairy farmer.
Mr Omair Bangash, a software-house owner (Tossdown.com)
Mr Usman Cheema, owner of four retail franchises in Lahore
And quite a few others! All in all, almost 70 people were present, from exceptionally varied entrepreneurial backgrounds. It made for a great mix of minds and lifestyles. Just brilliant! 🙂
(I am 'profiling' everyone who came – but those will be available only to the people who were there – so if you were at the meetup, I will be contacting you soon God willing).
This is another example of how a community can gather around an idea, an idea of doing things differently, of doing things right, of creative self employment, of wholesome living.
I learned a lot from this first meetup. Although I've heard nothing but awesome reviews for the meetup and how useful it turned out to be, I know that there are tons that I can do to improve the next one God willing.
Meetup Pictures
Check the Album from the Meetup below. The mugshots are on Facebook and Google+ too, so we can easily tag ourselves etc.
[album id=2 template=extend]