Who we are
Momekh is focused on personal and professional development, specializing in digital transformation and growth.  
What we do
We design strategy, training and coaching modules that are context-appropriate and culturally relevant, focusing on increasing profitability and efficacy of your business and brand.
We offer digital strategy consulting and learning & development for businesses and brands. 
A select list of clients we are honored to serve: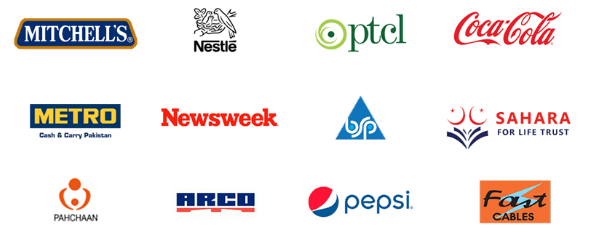 About Mohammad Khan
Momekh is led by Mohammad Khan who is an award winning entrepreneur and consultant. 
Since 1998, Mohammad Khan has been a practitioner in the fields of digital and social media, starting multiple projects ranging from retail to agri to services, before moving to strategy consulting and education.
As a writer of three books and instructional designer of high-impact courses – both online and offline – Mohammad Khan has helped individuals and brands with productivity, leadership, business startup and digital marketing strategy.
Mohammad Khan has been featured in
Featured on platforms such as TEDx, WIRED, The Huffington Post and The Friday Times, Mohammad Khan's courses and lessons have so far been viewed by more than a Million people in Pakistan alone. 
Digital Marketing Strategy Consulting
How can your brand take full advantage of the digital marketing opportunity in 2021 to measurably increase profits and efficacy?
The digital revolution itself is reaching beyond simple ecommerce to disrupt business models and turn entire industries upside down. 
Momekh uses a clear path to implement a digital marketing strategy to bring brands and organizations at par with what's working.
To fully capitalize on the digital marketing opportunities and also to avoid digital threats, businesses and brands must proceed on proven strategies and not guesswork. 
With our 8-Core Digital Marketing Framework and unrelenting focus on facts and data, our digital strategy starts from a thorough investigation of your brand and organization, and results in a step-by-step execution plan. 
Momekh is, via our deeply integrated partnerships, also equipped to execute these strategies across Pakistan.
Contact [email protected] to explore your options.
Learning & Development programs
We offer Ready-to-Deploy training programs and also a customized training roadmap for professionals and organizations. 
Our Methodology
A comprehensive investigation. We perform a thorough

training needs assessment

that is directly linked to your business goals.

Keeping sound principles of

Instructional Design

, we then produce a training roadmap for your organization's specific and high-impact needs.

Strategic and Tactical training – remote and on-premises – are delivered with a clear link to increasing

profitability and efficacy

of your organization.

The training is

evaluated

to ensure that not only worker behavior has improved but there is a positive impact on business results as well.
Our Ready-to-Deploy Training programs
Our training programs for personal growth:
The BeAllYouCanBe Training (Goal Setting Training, the one-day intensive)
The Structure of Success Training (half-day workshop on living the 4 proven fundamentals of execution)
Presentation Mastery (how to present your ideas concisely and with persuasive impact)
Our training programs for business & brand growth:
The Road to Sales (the one-day intensive on developing the sales lifestyle and setting goals to grow profits and commissions)
The 8-Core Approach to Digital Marketing (the one-day intensive on developing a thorough understanding of proven and profitable areas of digital marketing and how they can be applied) complement this with a pre-session needs analysis 
Social Media Mastery to Grow B2B Sales (the half-day workshop on how to fill the sales pipelines using intelligent content creation and product-funnel automation)
The Social Media Brand Building Intensive (the half-day workshop on how to grow a powerful and profitable brand online)
To request more information on our training programs or to explore customized solutions, contact us at [email protected] 
Customized Training Roadmap 
Momekh also offers a customized training roadmap for your organization. 
We perform a thorough Situational Analysis and investigate the Needs of your organization to present a roadmap of learning and development. 
We also incorporate scoring and measuring techniques to ensure that your training efforts are increasing the profitability and efficacy of your business and brand. Contact us today ([email protected]) to get started.
Virtual or In-Person
Our modules are designed for both virtual and in-person sessions. 
Instructional Design for remote learning is a unique capability at Momekh, as we have been conducting Virtual Instructor-Led Training since 2017 and our technology and content has evolved over the years to deliver impact to the learners. 
With experience of training in a virtual environment, Momekh is leading the way when it comes to delivering impact both in-person or in a remote setting. 
We have deployed our own Learning and Development online portals and also have the ability to create a customized in-house solution for your organization. 
To discuss your next training, either in-person or remote or a hybrid, get in touch at [email protected] 
The Momekh Collaborative
Before every client engagement, we identify their needs to determine whether there is a clear benefit from the expertise of one of our partners. 
We work closely with the client and our partners to identify complex and highly specific needs and establish metrics that matter. 
To ensure that results are delivered, we also incorporate networking and outsourcing opportunities to our clients. 
By complementing our expertise with the deep capabilities of our partners, our clients get the right combination of skill sets and experience to help them achieve their business goals. 
To start your next project with Momekh, WhatsApp: 03113MOMEKH (03113666354) Email: [email protected]