3 True Stories of Profitable Adventures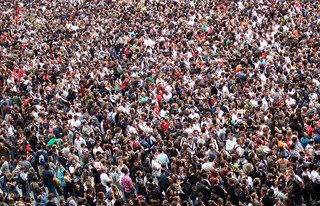 Waqas Ali is originally from Basirpur, a small town in the middle of Punjab, Pakistan. He came to Lahore, the heart of Pakistan, to do what most of us do: further his studies. Halfway through, he dropped out.
"The stuff they were teaching me at college was so outdated," he says, "I was reading books from the library that showed me the now!" He realised that college syllabus was not enough.
He started a small company Hometown, that sells hand-made shoes. They are selling these hand-crafted shoes online, from Pakistan to all over the world. They work from a small, shared office in Gulberg, putting in the hours.
"Every order that is placed with us," he says, "I send a hand-written letter along with it. And we place a call 7 days after purchase to see if our customers liked our shoes."
Their little start-up has won awards here in Pakistan. But awards don't make you money. Selling makes you money. But they are not focused on selling, nor on winning awards. They have chosen something else to focus on.
—
Niall Doherty is currently in Thailand. He left his job almost four years ago to travel the world without flying. Yes. Round-The-World without ever getting on an aeroplane. Ever.
Originally from Ireland, he documents his journey on his blog Disrupting The Rabblement, has recently published a book and freelances as a web designer.
"My laptop is my office," he says. He is very regular on his blog and all of his posts are supplemented with a video, where he talks about fighting fears and trying out new things. He is vagabonding across the globe and maintaining a business in the process.
Niall is obviously well-travelled. He is a published writer with thousands of people reading his articles. He offers his services as a web designer but after talking to him and reading his blog, you wouldn't find any "selling". What kind of a business doesn't focus on "sell, sell, sell."?
—
Yasir Nisar is a photographer from Lahore, Pakistan. He used to work at a bank, taking the time out on holidays to pursue his passion of photography. And pursue it he did!
His passion for photography was evident in his Flickr profile and the large following that he catered to. He eventually quit his job, doing photography full time and making money along the way.
He has exhibited his photographs in three different countries and continues to travel and shoot.
"My last visit to the north," he tells me, "I think I got about 90 Gigs of pictures." 90 Gigs? That's a lot of photographs for a single man to take on single trip.
The pursuit of passion is obvious, but the pursuit of money is not. It is there – he is running a profit-generating business through his photography – but you won't immediately notice that. But if you are not always selling, how can you actually sell?
—
Speaking with each of these remarkable individuals, I found one thing common: they are focusing on building a community instead of a client base. The money is there, but that is almost considered a by-product.
All the while I talked to any of them, the fact that they are earning money from their adventures hardly came up. I had to bring it up. Otherwise, they would keep talking about either the craft they are pursuing, or the reactions and interactions with their community.
Community Building Vs. Marketing
If you extrapolate the for-profit philanthropy business model, you will see that your "marketing" is actually "community building" and nothing else.
Going the extra mile, and then some, is a great way to build your brand, right? But too often you see that the idea of customer service is either lost, or poorly executed. You can see that the corporations are not into it; you realise they are doing it for the money and money only.
Helping someone out because your primary intention is to solve their problem is much easier to show. You just stay truthful and everything falls into place.
Focusing on community building instead of marketing is a great long-term strategy. I keep finding it in many success stories, and this "helping attitude" is quite common in successful entrepreneurs/adventurers.
The above three examples, amongst countless others, are to show how one can realistically focus on community building as an actual business model. It is always inspirational to see the "for-profit philanthropy" model being implemented in the "real" world. Anyone who is interested in learning more about them, I highly recommend you check out their communities and businesses.
Same Strategy, Different Tactics
All three are essentially building communities and are using vastly different techniques.
Using letters and snail mail is usually too cumbersome to be attractive, but if that is the only way for you to reach your audience, then one must do what needs to be done. Like Waqas, once you understand the power of community, the task at hands becomes easier to follow.
If you are an artist (a painter, writer, photographer etc), you can always share your creations and build your community around your art, like Yasir.
Out of the above three stories, Niall is the only person who is uses his blog as the primary tool to build and interact with his community.
Building a community via social media, especially blogging, is something that I truly am passionate about. Blogging (or self-publishing) makes community building so much more manageable that I always recommend this to pretty much all entrepreneurs who are willing to gather people around their ideas and/or brands.
Question: I wonder if you are trying to build a community around your brand or business? What are you struggling with the most when it comes to community building? Do you have any questions regarding blogging as a business? Do let me know either via email or in the comments section.
I wish you all the best in your conquests and adventures.
—
Photo courtesy of James Cridland