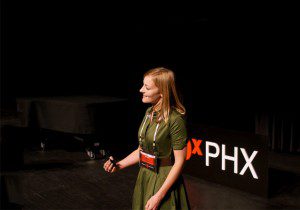 Kelli Anderson is an artist. She gave this TEDx talk and right at the beginning, she tells the audience what is the purpose of her work:
People arrive at experiences with expectations. And when we make things we are actively choosing what to do with those expectations. In my work I want to create disruptive wonder, I want to confound these expectations. Because I think that everyday fundamental things and experiences frame reality in ways we often take for granted.
That is a very personal purpose. This is a far cry from "I want my work to help others". It is true that for many of us, when asked, "what is the purpose of your work?", we are either dumbfounded or we give incorrect answers such as "we do it for the money" or "we do it for the passion".
Profit and passion are results, not reasons.
The first step is to find one's purpose for work. Why do you work? The way Ms Anderson has gone about describing her "why" is a great example of how this can be done. It reeks of personal thought, highly unique, deeply possessive even.
The words "disruptive wonder" may make sense to some, but it only rings true for someone who latches onto it.
When someone hears that you are into "disruptive wonder to help people frame reality in ways that they didn't expect", will that someone pay attention to what you have to say?
Most of them will not. But then, some will. It is those "some" that are part of the tribe, people who share a part of your purpose.
Our voice is best understood by these people. And we need to deliberately find these people.
+++
At the beginning, I said that Kelli Anderson is an artist. I think she is. I don't know. What I do know that she is deep in her work. And that is rare. And inspiring. Hope this inspires you too.
Learn more about Kelli Anderson: her blog.