I will be hosting the LifeETC Annual meetup 2013. I invite you to join us.
Meet like-minded independent thinkers, entrepreneurs and adventurers.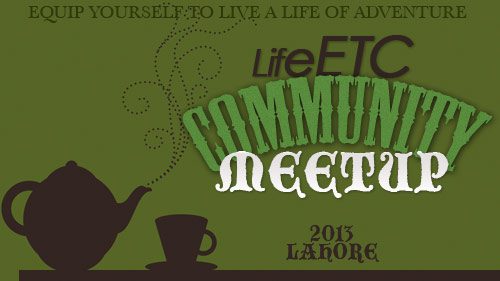 This will be the second annual LifeETC meetup. The location will be in Lahore. In February 2013, God willing.
The event will be a one-day event and will not exceed a total of 3 hours. A high tea menu will be served. Exact date and venue to be announced.
This meetup is not about me; it is about you, the awesome LifeETC community and the fine people who have already agreed to talk about their experiences.
Who Is Coming to The LifeETC Meetup
Do you want to meet people who are creatively self-employed and are willing to share their experiences?
Last year we had business owners from a wide range of businesses. This year, we are pushing it up a notch.
Owners of software companies.
Restaurant owners
Retail shop owners
Farm owners
Artists & curators of art (painters, writers, photographers, furniture!)
Blogger and online entrepreneurs
Entrepreneurs and adventurers of all shapes and sizes, really. This family-friendly event will help you meet the people – men and women – who are creatively self-employed and willing to share their experiences. You just have to ask nicely. 🙂
Limited Seats – Book Early
We have limited seats at the venue – you know how it is 🙂 so please take the time out to confirm and register. As before, I will take down the registration form once we reach the maximum seating, so please register now if you are interested.
Ticket Price
Note, this year we are introducing a small ticket price to cover the costs (unlike last year, where all costs were covered by LifeETC/Momekh & family 🙂 – thank you family! It was decided during the meetup that a small ticket price associated with the event will be a good idea).
So I have tried to keep the price to the bare minimum. And there is a little incentive to book early, so we can plan this event properly. Thank you.
| | |
| --- | --- |
| book your ticket before December 31, 2012 | PKR 290 per person |
| book your ticket after Dec 31 but before Jan 30, 2013 | PKR 350 per person |
| book your ticket after Jan 30, 2013 | PKR 490 per person |
Suggested Next Action: If you want to attend, sign up using the form and when I contact you, you can tell me when do you want to pay. We will arrange for the payment pickup. This way, I will know exactly that how many people are coming and I can take down the form once we reach the limited number of seats that're available.
So are you coming to the second annual LifeETC Community Meetup (2013)?
[button link="https://momekh.com/go/meetupform/" color="#2cce5f" size="3″ style="1″ dark="0″ radius="5″ target="blank"]Book My Seat[/button]
Click the above button to sign up.
Note: Once you have filled in the fields and clicked "Sign Up" — please head to your email inbox. I will send you an email with a link in it. You have to click that link to confirm that I got your email address correctly. Thanks.
No Sales Pitches!
There are no sales pitches, nothing to sell here in the meetup. Just good ol' talk, sharing stories about business and adventure.
I am trying to keep this free from "corporate sponsorship" where they force you to say "good things" about their brands etc. I don't like that. I am thinking you won't like it either. But if you have your own business (or work in an organisation that is a bit flexible in this regard) and would like to give away free stuff to the attendees etc, you are more than welcome to contact me here. Nothing beats free stuff and this will help the LifeETC community members better experience your service/product.