Start A Blog That Matters REVIEW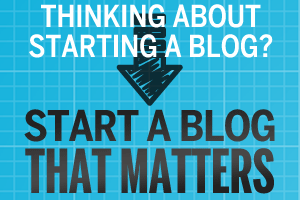 You will find out if the course by Corbett Barr called Start a Blog that Matters is worth your time and money, because I will show you the course from the inside.
In this review, I go through the course so you can see for yourself if it can help you or not.
I have access to the course. I will show you the training material behind Start A Blog That Matters so you can decide for yourself.
Warning: Know This Before You Read Any Further
Frankly, this course is not be for the casual blogger. If you are just 'browsing' around, if you want to 'see' if blogging is something worth trying, then do not buy this course at all. I am telling you this right now, this course is meant for people who have already decided that they want to take their blogging seriously.
I have seen the course, and I can tell you right now, that this is some detailed stuff in here. If you are still on the fence about starting a blog, then it is suggested that you try out some other free resources to get your going.
Also please note; I know Corbett and if you buy through my link here, I will earn a commission from the sale. It is considered a standard nowadays to not tell people of one's affiliations. I find it most ethical to tell you that I am affiliated with Corbett and this course.
I also find it essential that you know that I will never recommend something that I have personally not used. I want to promote products and services that I feel will help you achieve your goals, God willing. As cliched as it sounds, this review is not being written for the money. 
Now that we have that out of the way, and you really do want to take your blogging seriously, then read on…
Start A Blog That Matters Review
The Start A Blog That Matters course is divided into 13 lessons or modules.
When you do buy the course, you will be emailed the login information.
When you log in, you will see the welcome page (Figure 01).
I personally found the layout to be a bit overcrowded. But the content is very well-written and gets you going immediately.
The best part of this course is that it is focused on the strategy. There is talk on the tactics, yes, but the focus is on the strategy (the vision, if you will) on how to really get going with your blog.
A Personal Note: And Corbett is the right guy to be talking about strategy. Many blogs I see are one hit wonders. Corbett's first blog ThinkTraffic.net is a success, but then he goes and revamps his older blog and then creates another, new one from scratch. Now he has three successful, money-making blogs. There is definitely a strategy behind the success. And going through the course material, I can see how his previous experiences made him really choose the right topics to teach.  
The Attention To Detail
As an example, consider the first lesson, called Choose The Perfect Topic For Your Blog.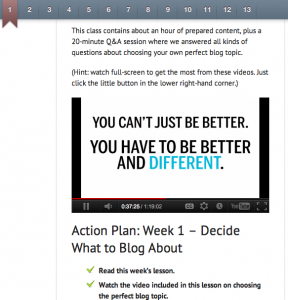 When you start this lesson, you get:
A text-based page where you can quickly read through the important concepts that will help you choose the topic for your blog.
A one hour long video where Corbett himself talks about different case studies on how to choose your blog topic!
An action plan of what you, as a student, need to do.
I just love this format! You start off with the strategy, the why. You get a detailed video to see and hear different case studies on the impact of choosing the topics. And then (and I find this the most important bit), you get an action plan to follow.
Again, it must be noted: this course will not help you if you just want to check it out. But if you are serious about blogging, and want to make it work, then this approach of strategy -> case studies -> action plan is one of the best formats of learning something and getting things done.
Note: in the screenshot (figure 02) you can only see two items on the action item list. The actual list is longer… you only see two because I could not take a larger screenshot!
+++
In conclusion, if you come up to me and ask, "Should I buy Start A Blog that Matters?"
I will say yes, but only if you are serious about starting a blog that…well…that matters. There is some great information in there but it won't help you if you do not take action! The action plans given with the course material is the most any teacher could do, right? It is upon the student to show initiative and follow the advice!
What if the advice doesn't work? You can always return the course for a full refund. With the current industry standard of money-back guarantees, you will easily get your money back if you feel the course is not right for you. There are no questions asked. If you buy the course only to find out that either you are not ready or the course material is not solid etc, you can get your money back with one click. It's that simple nowadays.
Click here to buy the course right now.
I wish you all the best in your conquests and queries.
Still have questions? You can ask me anything related to this course via the contact form. I will be glad to help whether you buy the course or not! 🙂