elcome to JustAddVenture by Momekh, the blog on living a life of adventure (while being creatively self employed).
I am thrilled that you're here!
You know what that means, right?
It means that you have already decided to take it a few steps further! You've already decided to get more out of your life! You've already decided to live fully and passionately and bring that sense of adventure into your life!
You are now part of a global family of people who want to add venture to their lives!
I have put my heart and soul in creating the contents of this page. Contents that can help you add venture to your life! I hope that you take action and make the most of your own adventures! I wish you nothing but the best.
 Contents and resources available to your for free:
Blog as a Business Course

Coming Soon

F

ind Your Business Workshop
 It is recommended that you bookmark this page for reference. Or you can simply type in your email address into the Subscribe boxes on the blog to get to this page. Also, it'll be cool if you do not share this subscriber-only page. Thank you.
 +++
 Find Your Business Workbook
 Why You Need This
You know you want to start a business. But which business should you start? How to decide if starting a blog based around your hobby is better than starting a kulfi-selling stand in front of colleges?
Really, it can get confusing. No need. Follow this simple table (we immodestly call it the "profit matrix"), and arrive at your line of business (or even the next product you should be creating).
Click to download (Free for all subscribers)
+++
The Weekly Refresh
Why You Need This
Do you want some semblance of structure in your life?
Don't you think that being creative and being organized is just not possible?
This guide was written to present the one thing that has helped me tremendously. By God's Grace, the one method described in this guide helps me stay spontaneous and follow a system of constant improvement.
Click to Download. Free for all subscribers.
What's In It
This small 22 page guide presents the best advice I've found on productivity and self improvement.
You don't have to many things to do one thing right. Instead, I have tried to present just ONE thing that you need to do, and that one thing will help you do all those things that you want to do, God willing.
Enough talk, just download and go through it. And more importantly, take action. InshAllah, you can get to where you are trying to go.
+++
Your First $1,000 Online
A taste of financial freedom: download the eBook The First 1000 dollars with Affiliate Marketing.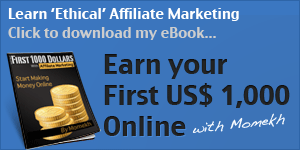 This eBook is 70+pages thick, packed with information and actionable advice on how I earned my first 1700 US dollars to afford a luxury trip to Thailand with my wife!
I used Clickbank as the platform and received money via checks. Complete and honest details are shared in the eBook.
Why This Book Was Written
This was my first real adventure in terms of earning money online and using it to fund an adventure! I wrote the eBook after I saw how many people asked me how I did it.
I initially planned on selling the eBook, but after I had written it, decided to make it available exclusively for subscribers of the blog. I remember thinking: if I am serious about blogging, then I should be serious about getting new subscribers and making them feel welcomed!
You can also read the testimonials this eBook got (real people earning real money because of the eBook).  Note: You don't need to sign up to download the eBook, instead use the link on this special page to download the eBook instantly.
Here's a picture from my room in the hotel resort at Koh Phangan, Thailand. Click to read the post I wrote way back then about this adventure!
As a subscriber, you can download and read this book for free.