One thing you must have (بندہ کہ سہی رہا ہے)
One thing that has helped me the most is having a central platform to call my "home" on the Internet, as I explain in this video:
Know the difference
Sure, Facebook, Twitter, LinkedIn, YouTube, Instagram, all of these are like markets. You take a stroll down main market, you visit Liberty Market or heck, sometimes you find the time to go to Moon Market ????… but where is your home? That is the platform, your own domain name, your own website, your own blog, your own online store.
So do not think of having your own website as something that is "not necessary". Your own platform, that will always be necessary…. the only thing that changes is HOW you use it.
You go to where the people are to share your message, make your presentation, spread your idea or build your business. But you ASK those people to join you on your platform, to come visit your shop, to become a part of your community.
Another Common Confusion
Another problem with having your own platform, your own website, your own blog is, that people still think it is an IT department activity. Consider the following (I shared this 2 years back, and still a lot of businesses are making this mistake)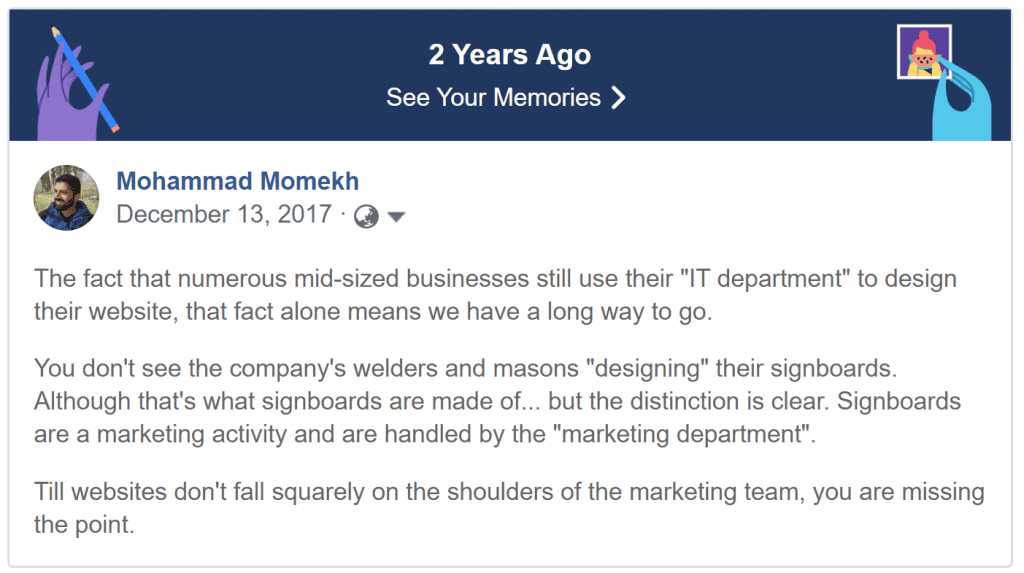 2 years down the road, still websites are considered a function of IT. Also, now running Facebook pages and other social profiles is considered a job of a "graphic designer". That's why people are not getting the results they want….
I make websites and pro blogs, and if you want a thorough work up of your digital platforms, I will love to talk to you. Drop me a message here or WhatsApp at 03113MOMEKH.
Hope this helps.