Content Marketing
What is content marketing? How can you use to build a powerful and profitable brand?
Content Marketing is one of the core elements of Digital Marketing and is an essential tool for any brand. I hope you find the following articles, videos and workshops useful.
Where is Content Marketing in Your Journey?
When you set out to build a powerful and profitable brand, you need to pay attention to the digital marketing landscape. And within that, you need proven strategies and step-by-step instruction on how to implement those strategies.
Content Marketing and the Profitable Client Journey are two broad, strategy-level concepts that one must fully grasp. And then, these two important concepts inform us on our journey:
How to build a Social Media Marketing plan that is based on sharing valuable content on social media, that ACTUALLY help you increase your profits. We need to see the link between valuable content shared on social media, and how it increases your bottom line!
How to build an Email Marketing plan to build a relationship with your Community. Beware of trying to run a "social media only" brand! Email still gives an incredibly high Return On Investment (ROI) compared to ALL social media platforms (check out the Email Marketing Masterclass to start implementing this profitable system in your efforts)  
How to run profitable Digital Advertising campaigns on the best social media platforms for your specific business and brand. This is when you run paid ads on platforms like Facebook, Instagram, YouTube etc. As more and more brands big and small utilize platforms like Facebook ads (especially brands and businesses from Pakistan), you will see that it becomes harder to get a positive return on your paid ads budget. It becomes essential to master this core element of digital marketing. 
How to build your own platform and apply proven methods for Search Engine Optimization and Search Marketing so that your platform and the content it contains gets discovered by your ideal audience. Search Marketing is wrongly sold as "build content for search engines". A long-term, powerful and profitable brand builds content for its audience, and then optimizes that content to ensure that is is discovered by search engines. All search engines including Google hire teams of professionals to make sure their search results are relevant to people, and if you also make content that is "people first", you win in the long term. 
Articles on Content Marketing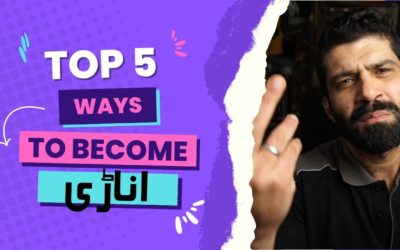 اناڑی بننا ہے تو یہ پانچ چیزیں ضرور کریں۔اور اگر ماہر بننا ہے، اگر اپنا مقام پہچاننا ہے، تو یہ پانچ چیزیں بالکل نہ کریں۔ If you are interested in becoming a professional and then becomming a HIGH PERFORMER in WHATEVER you do, don't forget to subscribe to my...