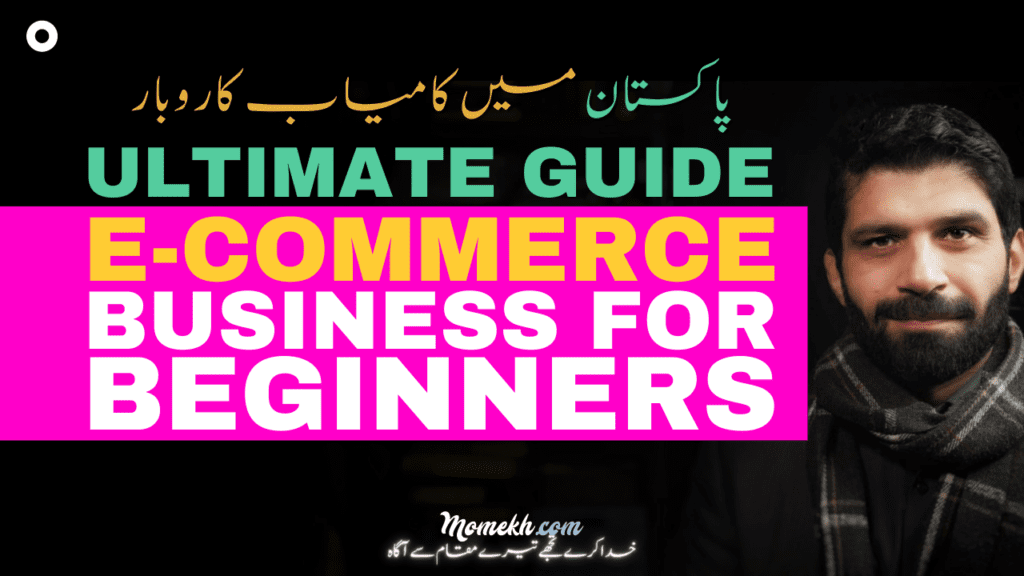 Ecommerce Business for Beginners
I will share with you the most EXPENSIVE mistakes beginners make when it comes to starting an ecommerce business, especially in Pakistan.
So before I do that, I've a quick question for you:
Will you treat a 3 month old baby like you will treat a 30 year old person?
Silly question, right? The treatment is completely different. You don't expect the 30 year old to cry when hungry, nor do you worry that your 3 month old still can't drive. The treatment, the expectation, the method of dealing – all of it is different.
Then why are we learning advanced ecommerce strategies when we are at the starting stage of an online business?
In this article, I want to show you all that you need to know if you are starting out.
This is the complete guideline on ecommerce business for beginners (with special attention to some unique problems faced by people in Pakistan).
Who Am I To Write This?
If you are new to this part of the Internet, first off welcome to Momekh.com.
I am Mohammad Khan, an entrepreneur and writer from Lahore, Pakistan.
I sold my first website in 1999 and was self employed while at college
I won the best business blog award from Google in 2012
I have been blessed to live a project-based lifestyle over the years.
Now I have previously covered Ecommerce business for beginners on a video, and I have myself started and operated ecommerce stores in Pakistan.
I only write this because by God's ultimate Grace, I've been able to start and grow ecommerce stores myself – and have helped others as well (either via consulting services or growth coaching programs).
Using e-commerce stores, I have been successful at starting or growing:
Our first online ecommerce store was selling cakes, and now we also sell information products as well here in Pakistan.
ecommerce business of selling books and information products
an online bakery, where the ecommerce business was focused on selling cakes
online business selling services
and there we identified some key points when it comes to starting an ecommerce business.
I've been blessed to help my clients, my family members and my students start their own online businesses using the guidelines that I am sharing in this article:

So in hopes that you are ready to learn, let's start from the beginning (makes sense, right?) :)…
What is an Ecommerce Business?
To clearly understand the ecommerce part of ecommerce business, we need to understand the "business" part of this phrase.
It has been my observation, unfortunately, that a lot of us, especially beginners, think that opening a shop online, or having a logo or a Facebook page means they are in business. This is because no one really told us what a business actually means.
A business only exists when there is a transaction that takes place.
That's it. I suggest you read the above line again. Many of us – including me when I was starting out – make the mistake of equating everything under the sun as a business.
What is an Ecommerce Business in Pakistan?
I want to make a few things clear, especially given the culture of Pakistan. When you start out, you may have to deal with these thoughts.
When you're starting an Ecommerce store, it is exactly the same as starting a business. So don't fall for the old traps of "looking busy and doing nothing" that a lot of people who start their businesses fall for.
For example, do not think you are in business even if you have:
A new office
Even an ecommerce store! (as we'll see the store is part of the whole ecommerce business, but not the real business)
Your business cards (which we absolutely dont need to do now, but a lot of people invest in business cards – I have a question, "when was the last time you looked up someone's phone number or website address after consulting their business card?" Exactly, it's redundant and not needed)
Even starting your Facebook page for your online shop – it's all great and all, but that is NOT business as we've seen. A business is a sale, and you may need a Facebook page for the sale, but don't celebrate or even pat yourself on the back yet… focus on what makes your ecommerce business a success instead!
These things DO NOT mean you have successfully started an ecommerce business. Because remember, the transaction has not happened yet.
These things help in facilitating the transaction, yes. But we as entrepreneurs need to focus on the transaction to ensure that we build a profitable ecommerce business. This means that we don't just put up an ecommerce store with tons of products on it, but we work on crafting offers for our potential clients.
How to start an Ecommerce Business from scratch in Pakistan
Starting a business from scratch means that you are not selling anything right now, but soon you will be selling online!
And because you will be start an ecommerce business in Pakistan, you can take advantage of a few things that other people around the world DONT have! Yes, there is an advantage of starting an ecommerce business in and from Pakistan! As you will see below!
It comes as a surprise for a few, but the online store itself (the ecommerce website) is only one part of a 3-part system you need to start an ecommerce business. What are the three parts you need to have a successful ecommerce business:
The Ecommerce Business Idea
The Ecommerce Website / Online Store
The Marketing for Your Online Business 
We will now look into each part and see how you can use it start a successful ecommerce business!
1. The Ecommerce business idea
This is the actual product you will be selling. The business idea usually means the product or service itself – what you'll be selling.
"My business idea is to sell children clothing online," when you say that, that's the business idea, and that also tells us the item you'll be selling.
In my experience, I have seen two main categories here:
You already have an existing business, and now you want to take it online, have an ecommerce business on top of the existing one.
You have decided you want to start an ecommerce business, you want to build an online store, but you have not decided exactly what you will be selling.
Again, I want to warn you, the advice for each of these businesses must be different, right? Recall our initial example: you won't treat a newborn like you would treat a 7 year old, so we treat both categories differently.
1.1. If you already have an existing business:
I have a student in our Membership who ran a jewelry accessories store here in Lahore, offline on a physical location.
When she decided to close that physical shop and sell her products using her ecommerce store only, she ended up saving 60,000 rupees just on the rent.
Think about it: with an extra 60,000 rupees, she can pour all that in on a well structured Facebook ad campaign for her ecommerce business. Now she is taking full advantage of her ecommerce business.
If you are an existing business, you need to work on Offer Creation instead of just Product selling. There is a difference between an Offer and a Product for sale. An Offer is something that directly addresses the problem, a product is simply the thing that is being sold.
Always have a matching outfit for your next event with XYZ fashion store. This is an offer.
An outfit for sale on XYZ fashion store. That is a product.
Making sense? I always recommend that you focus on Making Offers instead of Selling Products. We go into great detail on how to create an offer vs simply selling a product in our Find Your Business Workshop – this method alone can increase your sales by a large margin. It is a worthy bit of knowledge to gain.
In any case, if you already know which product you are going to sell, you can go to the other two areas of your ecommerce business, but…
1.2. If you have yet to decide which products to sell online:
If you have not decided which product to sell, then you have some work to do. And this is a very important bit of work on your part.
You need to find the right product to sell online. This includes doing market research to find a profitable product to sell. But even before you do that, you need to open your mind and see different ecommerce business ideas for 2022 and beyond. A lot changes, and maybe you see something that you like.
You see, if you haven't selected your product yet, you have the "luxury" of selecting your product, so you can try to get the low hanging fruits, products that are easier to sell or easier to source for example, or they have a larger margin, or they are something you really enjoy doing and you are good at it etc.
Using the Find Your Business Action Plan by Momekh
Market research can be a real fun adventure only if you see yourself not as a "researcher" but as a "treasure hunter", because, really in essence that is what you are doing, right? I have a resource called Find Your Business that you can check out to get an idea what it means to be the treasure hunter for your market!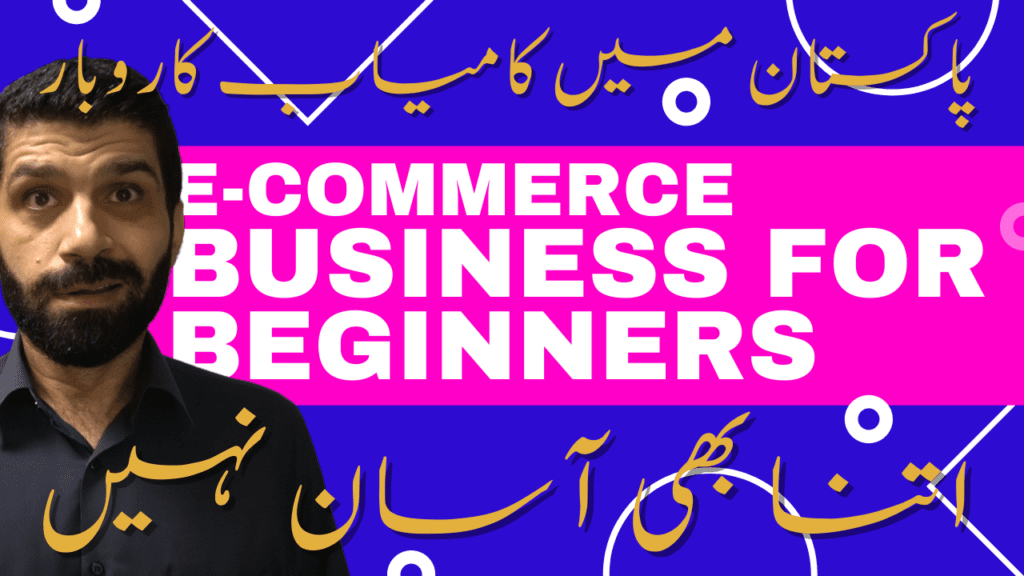 Business in general is not "easy" otherwise everyone would be doing it, right?
So ecommerce business is not easy either. But it is simple! And for people who commit to taking action for a 6 month to a year period, it can inshAllah be a very rewarding experience.
2. The Ecommerce Website
This is the online store itself. This is the website address you type in. Your online store should have, ideally, a few things with it to complement your sales. Things like:
A well laid-out Facebook shop / page
An Instagram account for the store
A LinkedIn page (I recommend using LinkedIn to grow your brand, no matter if you are selling toys, clothes or professional services)
The above are in addition to your main online store.
Pro Tip: You can start making your ecommerce website WHILE you are finalizing your business idea. Why? Because getting an ecommerce website can take time and money. When you commit your money to it, you tell yourself that you are serious about this. And also, a good ecommerce site can take anywhere between 3 to 25 days to be up and running… so yes, here's what you need to know about starting your ecommerce website
Yes, You Need Your Own Store/Site Name
Your own website ecommerce store is what people visit when they want to buy from you. Don't fall for the trap that you are OK with having just a Facebook page.
This is not the place to be saving money. This is your business and you need to take control of it. You do that by owning the domain and the hosting. You do that by controlling how content is displayed on your site. You build your own brand and business, not Facebook's or Insta's for example.
Sure, you will be sharing content on social media, but you will be trying your best to build out your ecommerce website in the process as well. Why? So that you start the process of collecting leads as early as possible. I have seen way too many businesses not reach their full potential because they relied only on their Facebook, Insta or Pinterest pages to drive sales. That is just a bad strategy, to depend entirely on someone else's platform.
Where to Host Your Ecommerce Store?
WordPress or Shopify? Or Wix? Or SquareSpace? Each hosting platform comes with its own pros and cons. I recommend a self-hosted WordPress/WooCommerce store, as it turns out the cheapest and you can grow your store as your business grows. If you are interested in getting your ecommerce website, my team can help you do that.
But no matter you choose Shopify or WordPress, you need to make sure that your ecommerce store has the following:
Website Speed: It needs to load fast! Website loading speeds are proven to have a direct relationship with the number of sales you make on your store! It's critical that your website loads in less than 6 seconds max.
Responsive: The ecommerce store loads perfectly for mobile as well as larger screens like laptops and even big smart TVs. These days, people use mobile devices the most to shop around, and your ecommerce store needs to cater for that.
All Payment Options Available: There are a significant minority of people who will pay you using their debit or credit card, so your sales can increase as much as 25% by just making sure that your ecommerce store accepts debit / credit cards as well as cash on delivery or bank transfer.
We at Momekh.com have recently started displaying the following banner on our checkout pages.

And the moment I did that, I saw people 10% of sales started happening via credit/debit card.
Your Website Host Must Allow Email Marketing
As a business, your main marketing effort is to collect quality leads. We address that more deeply in the next section that deals with Marketing Your E-Commerce Business… but your host needs to accomodate your collection of leads.
This means you collect their email addresses and WhatsApp/phone numbers with their permission of course, to send them your Offers and deals etc. Email building is still the most lucrative sales channel out there, and beats Facebook, YouTube or Insta sales any day in terms of ROI (ROI is Return On Investment).
So as a business, your ecommerce website must have a way of collecting emails. I have used the following for many years for my own stores:
MailChimp
Aweber
Drip
Constant Contact
ConvertKit
And then I made a move to an open-source plugin (one time cost of approximately $50), and started saving US$120 per month just on our email management software costs!
Now I use a combination of that plugin and a very promising WordPress plugin called FluentCRM.
We go into great detail regarding that in our ProHobbyist course (a 5 week course on converting your hobby into an online business, made specially for the Pakistani entrepreneur). You can check here to see if admissions are open for that.
3. Marketing Plan for Your ECommerce Site
This is the final and critical piece of your ecommerce business.
You have two ways of growing your Ecommerce Business.
Organic
Paid
Organic means that you are getting traffic to your ecommerce store via sharing content on social media. People see it, click through to your website etc.
Paid of course means you run ads on Facebook/Instagram, or Google/YouTube etc and get people on your website that way.
Both are necessary in the long term for a successful business. By necessary I simply mean that you as an entrepreneur must try out both to see which one works best for you, and focus on that one in the beginning.
Running Ads for Your Ecommerce Business
Using ads – Facebook ads or Google/YouTube ads etc – is the fastest way of testing products, offers, campaigns and ideas.
I use a rule of thumb that whatever rent you are paying (or would have paid if you had taken the shop out to the physical world), that should be your monthly ad budget. I feel this increases the stakes and gets you to really learn and grow.
You need to be more knowledgeable about this game and how it's played. Very briefly, you need to:
Have a Ideal Client Avatar in place.
Create an Offer based on the product and the ICA.
Splinter that Offer as Image, Video, Text for your Facebook ads.
Structure your campaign so you spend Rs 1,000 per day, not more (you will scale up the campaign when it is ROAS positive – and you don't know what ROAS means, it's OK, that's how you start learning)
Pay close attention to the conversion rate of the landing page on your site
Keep tweaking your creative (the ad itself)
As you can see, these are very specific terms. And if you don't know what they mean, isn't that great? This means you will LEARN something that you will be applying directly to grow your business!
How People Lose Money on Facebook Ads
Most people simply make the Facebook page, and then they see the blue boost button maybe, and then they end up paying for a Facebook boost. They get very happy when people like liking their image. And then get worried that why are people writing "Pp" in the comments. And then their budget runs out. And there is no sale. And then they say "This online ads dont work".
That's one way of doing Facebook ads. That's the way people lose money.
Should Your Hire Ad Agency for Running Ads?
I don't recommend you hire an ad agency to do this for you – I recommend you learn it, either by spending time on YouTube or doing a course in a more structured manner. Basically, what you need to understand is that you should know exactly what is happening in the ads world, because the growth of your business depends on it. I know many profitable businesses who have fired their social media / ads agencies because they have learnt to do it better.
Once you know what to do, once you can understand the strategy, then you can hire an agency to execute that strategy, that's perfectly fine. But you must know enough to come up with a strategy, and test it over time to tweak it etc.