If you:
want to gain financial independence by starting your own business.
want to explore ways of converting your hobbies and interests into a career, a side-business or your own digital kingdom (i.e. become a ProHobbyist)
believe that you have something valuable to share, and want to see how to use the latest strategies using the Internet to do that, build a community for fun, passion or profit.
then you need to become the master of experiments!
because:
 knowing what to do is not enough (yes, against popular belief, knowledge alone is not power!)
passion and desire is not enough (a lot of us end up doing the wrong thing very passionately… and end up at the wrong place just all that quicker)
something very interesting and enjoyable doesn't mean we get paid to do it (although people we look up to, they seem to be really enjoying their work, they are entertained by their careers… what's going on!?)
It is when we put on the hat of the professional addventurer do we see:
how to be empowered to achieve our highest, optimal standards,
how to get educated, how to apply the best way to learn, and
how to have one heck of a time doing it all, for fun and profit!
Welcome to the JustAddVenture, the home of the professional addventurer, and I am your host, Momekh.
What Matters Most…
Who you are and where you're from does not matter.
What matters is what you decide from this moment on.
Isn't that horrifyingly simple?
We are lead to believe that we are our biographies, that our past will determine our future.
Things like, "but you can't do this because you're from a third world country," or something in the lines of, "you are not made for this," … these dialogues are thrown at us. But why do we accept them?
Whatever the running excuse is in your culture, we accept them as fact. We do what everyone is doing, because we are scared and because we end up believing that we can not do this.
I remember making this one simple decision, years and years ago. I wrote down: whatever happens from this day forth, it will be because I chose it, not because others chose it for me.
That one decision changed everything. I either had to "own up" to their decision, or I had to decide what I though was best.
By God's Ultimate, Neverending Grace, that was one of the best decisions of my life.
Listen, I don't want to sell you dreams. I don't want to make "living life to the fullest" as this easy thing that you have to do. It's not.
Once you take responsibility for your actions, once you stop pointing fingers at
the economy,
at bad genes,
at bad partners,
bad company,
bad friends,
etc etc etc
…and start making your own choices, life suddenly becomes clearer.
But it also gets harder. It's like enjoying the rain: some people run off when it rains, hiding under the shade. Some enjoy the spectacle of nature by standing still under the downpour, smiles on their faces. But make no mistake: they will get drenched.
The drenched will look at the dry, and swear that the benefits far, far outweigh the downside. The dry will look at their neat clothes and thank God they didn't decide to stand out in the open.
It is my decision to be drenched. What's yours?
You only live once, but if you do it right, once is enough.

May West
Nowhere Else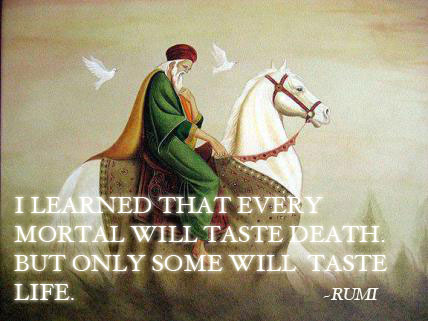 Too many suggestions out there are based on conjecture and just theories presented as facts! Not here. Haven't we received enough advice from people who themselves have not done the things they're talking about?
That's why the content on JustAddVenture/LifeETC by Momekh is based on experience. The strategies and tactics are and will be applied in real life, experimented with and reported "as is". God willing.
Do you want to start living a life full of meaningful adventure?
If you have not done so already, join the 2200+ people from 50+ countries who are already part of the family!
About Momekh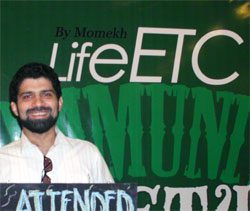 I am a blogger and a serial entrepreneur from Lahore, Pakistan. I am an adventurer from Lahore. I want you to quit your life-sucking job and convert it into a soul-serving career, or if we're really lucky, into an adventurous, fulfilling Calling! It is time you start your own adventure. And I want to help you do that.  You want to take your idea, your case, your product to more people, I help you become the independent publisher online… you want to discover your Calling, I help by laying out a framework that has worked for countless others… you want to start an online business, I can teach you all I know.  But what do I know? Here's my rule: I only want to teach what I have done!  Knowledge, true knowledge, comes from experience. That's Einstein's definition. My objective has been to share more knowledge, and less information.  Some facts:
I have been self-employed my whole life. By God's Grace, I started working for myself while still at college. Have started quite a few projects.
I study businesses and marketing as a hobby; but my business model of choice is what I call for-profit philanthropy. Most of the information I give away for free, and I give a more detailed approach to premium members. Either way, it's cool.
Although I do talk about earning online, I do not earn money in my sleep.
I am not a millionaire 🙂 and there is a difference between having a million dollars in your bank account and having a millionaire lifestyle
I wrote my first article back in 2000, a cover story for SPIDER Magazine (a Pakistani national IT magazine). Since then, my articles have the seen the light of print on topics such as current affairs, business and IT.
I have had the pleasure of being mentioned and/or interviewed in publications such as The Friday Times, WIRED, BBC and local news channels.
This blog won the Best Business Blog award at the second annual Pakistani blog awards, held at Karachi by PCWorld
I started a dairy farm, ran it for three years and sold it at a profit… all remotely, all while testing out the strategies that I have learnt in the offline and the online world.
I wrote a guide on dairy farming, that is still on sale here. This is proof of concept for anyone who doesn't think that a "Pakistani can sell information products online" honestly and transparently. By God's Grace.
The Momekh family – meaning the subscribers of this blog – is the only blog community in Pakistan that actually held a physical meetup. Everyone enjoyed, learned, met entrepreneurs, made friends and we plan to do this often. Read more about it here.
I co-founded with my wife, the largest online cake bakery in Lahore, Pakistan (some claim, right?)… and that also serves as an experiment in testing the strategies of converting one's hobbies into a sustainable career and a business (the #proHobbyist movement woo-hoo!)
By God's Grace, I believe in God's Grace. 🙂
Many times, I take on experiments and adventures so I can "convert" my information into knowledge. Then I share that to the email subscribers, people who are part of the Momekh family.  Join the Momekh family by filling in the form below:
What People Say
People have said some nice things about this blog – LifeETC by Momekh – and my articles. For example: Faisal Kapadia, a writer from Karachi, writes in The Friday Times:
[Business is] A subject I happen to know a little bit about other than star wars, a business blog has to discuss stratagems on varied subjects and Momekh does that like a yoda, enough said.
Like it, I do. You Faisal, I thank. 🙂 Michał Roki, from Warsaw, had this to say:
Hi, I wouldn't want to waste Your time, so first things first – great, great thanks for what you're doing – You and Pat from Smart Passive Income are definitely the two most inspiring guys in the self development [and] online earning niche. You've got a lot in common in my opinion – your emphasis on ethics for example – it's unique, it's important, inspiring and it makes Your writing my top reference material. After reading a lot of online material (free and paid), I found Your first 1000 dollars ebook the best starting point for someone fresh in online income niche.
Niall Doherty, a world-traveller if there ever was one, emailed to tell me:
Loving what you do, man. Don't change a thing.
To see some more testimonials, you can see this page. Want to get the blog updates conveniently in your email? Put in your name and email below and click the Join button.
This blog is named in appreciation of a book by the name Life, Etc: Advice for the Real World by Charley Swayne.