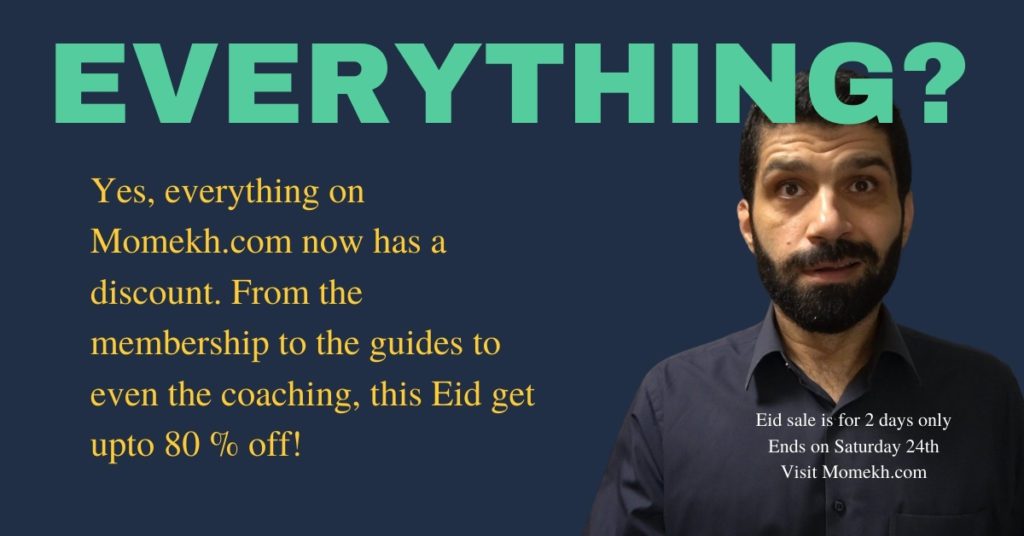 The Big Eid Everything sale is now over. Thank you for your attention and support.
For Eid, ​I have put everything on sale.
I was asked this question after yesterday's email (you're not on the list? subscribe here):
What are the details of the courses being offered?
​Well, everything is up for sale with a juicy discount attached. Eid Mubarak janaab!
​So what is Momekh offering?
The first and foremost is the The Momekh Premium Membership (MPM).
Why is this the first and foremost here?
Because, it has pretty much ALL of my courses rolled into one.
This is the all-in-one pack, for all those who want to grow their brand, their business, especially in Pakistan.
In the MPM, we cover things like:
How to find the right idea to build on
What are the steps to take to get to your first client?
How to make your perfect business website so it works FOR you?
What business systems need to be in place?
What is the daily routine of a successful entrepreneur / business owner?
How to implement the 3 secrets of a powerful, profitable brand and business, especially in Pakistan?
These trainings are a result of 2 decades of my personal experience in starting projects, many of them that failed, and some of them were a glorious success Alhumdulillah.
These are on-demand courses, that you can watch at your own pace, from any device.
And then we have monthly live calls, where I share a valuable, often-missed lesson in the form of an online workshop, and answer your specific questions to ensure that you get the best chance of success in your work.
This is going for PKR 25,000 per year. It's already a great price. I have further slashed this to only PKR 15,000 for the first year!
​Know more about the MPM by clicking here.
If you are interested, please sign up at the MPM sales page. I look forward to seeing you on the inside.
​This crazy price drop will not be here in the next two days (till Saturday 8PM, PKT), so do take action now.
​
Get Your Professional Website and Online Store
If you want me and my team to build your online store and a professional blog, so you can take your brand, your message and your self to the world, then this offer is definitely for you.
Retail price: USD $235 per year.
Eid Sale Price: USD $150 for the first year!
Who is this for:
If you want to start your ecommerce store, especially in Pakistan, then this deal is for you. We manage all technical aspects of a powerful online store (there are tons of things actually to look out for, click here to see what it takes to build a profitable online store)
If you want to build or upgrade your existing business website so it actually works for you, and it becomes more than just a glorified brochure, this deal is for you.
If you want to build your personal brand and need a reliable and fast blog, then this deal is definitely for you.
To purchase this to lock in the above price, you need to contact me to let me know. Do share your phone number when you reply so we set you up quickly inshAllah (we can deliver the website complete in 7 working days!)
​Again, worth reminding you, that this deal goes away in 2 days! (The Eid Sale ends on Saturday 8 PM Pakistan Time).
​
Discounts on Business Guides
The guide that started it all for me, the Dairy Farming Guide… it still enables people who want to start a professional dairy farm. If you want one, you can have it at a CRAZY discount of 80%!
It is selling for PKR 7,600 (US$47), but you can have it at PKR 1,520 only. Contact me and tell me you want this DFG, and I will send in the bank account / Jazzcash details. Once you make the payment, the guide will be emailed to you.
That's a big discount and I hope that if you were on the fence on buying this or not, this will help you make that decision!
​​Click here to know more about the DFG.
​
The Milk Distribution Case Study
I have started a lot of local brands, that did quite well Alhumdulillah. From a cake delivery business, to a design shop, to a "branded dhodi" enterprise. This case study is a culmination of what I have learned. It is one of my favorite pieces of writing, because I was able to break the lessons down into 9 distinct section based on core startup methodologies. The lessons present in this case study are more than sufficient for anyone willing to start a brand, especially a local brand.
You want to purchase this at 80% discount? Instead of PKR 6,200, you are getting this at PKR1,240!
Let me know (click here to contact me) and I will send in the bank details for you to make the transfer. Once that's done, I will inshAllah email you the guide.
​​Click here to know more about the Case Study.​
​
Coaching
My "Instant Coaching" product has done well in the past, Alhumdulillah. But truth be told, I have not promoted it like it should have been promoted. Individuals who took this coaching were Alhumdulillah very satisfied with the problems they ended up solving after the coaching session.
The price is Rs4,999 for a one hour coaching session (phone/Zoom based).
If you lock in the price during this sale, you get two separate session for the same price!
This is first-come-first-served basis, as I have only limited time and therefore limited slots.
​Click here to lock in the coaching session before this deal ends.​
​The Only Service that is Not for Sale (unfortunately)
The consulting / advisory role, that I am blessed to serve, that is not for sale, because truth be told, that role is just too dynamic to even put a price on, much less put it on a discount.
I have been blessed to be in the role of an advisor to business owners and CEOs, and I have helped them and their teams develop strong leadership skills, and business growth skills.
And this service and advisory is closest to my heart. Why? Because I am enable to bring about change on a larger scale, by talking to the CEO directly.
I have been blessed to play this role, that of an advisor to business owners of one-man/one-woman shops, to COO's of public listed companies. This is just too much fun and too big a learning experience for me personally to ever stop. Alhumdulillah.
And based on the nature of the work, the advisory and strategy consulting for business owners is not discounted, even though I wanted to, given it's Eid.
​How to proceed? If you have decided on a product to purchase, simply click the relevant link above and complete the order. Or you can simply contact me let me know and me or someone from Team Momekh will follow up.
If you have decided to invest in more than one product/service, simply do it one-by-one, right from this email, and you will be able to lock in the prices (please note, to lock in the price, I recommend that you not only book your order, but also make the payment to complete the order, thank you).
​In any case, I hope you take advantage of the above opportunities. Let me know if you have any questions (just click here to contact me).
​I wish you a glorious Eid, and pray that we are able to internalize the spirit of sacrifice in our daily lives as we work towards serving with excellence in all things, aameen!​
God bless and all the best to you and yours!